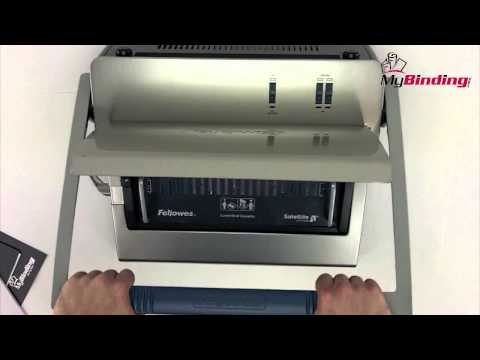 If you're looking for a high-quality comb binding machine, you'll be glad to know that there are many available. Some of the best ones are made by Fellowes, such as the Galaxy 500. Be sure to watch the video featuring this machine and then continue reading to learn all about it.
The Galaxy 500 is compatible with plastic combs that are up to 2" in diameter. Due to this, you'll be able to punch and bind documents that are up to 500 pages long.
This machine features a vertical punching mechanism and a rotary edge guide so you can be sure that the holes in your documents will be perfectly placed. The device has the ability to punch up to 25 sheets at a time, which is an impressive amount.
The Galaxy 500 has a built-in storage tray so you can keep a decent selection of combs at your disposal. The tray also has a comb selector. You can use it to measure the thickness of your document and then choose the right size comb.
Using the Galaxy 500 is very easy especially since it has a D-shaped punching handle. This handle is suitable for two-handed punching and it can be used by both right- and left-handed users without any problem.
One of the most unique things about this machine is that the comb opener can be removed from the machine. This allows you and a colleague to punch and bind simultaneously so you can get your work done in a hurry.
This device is pretty durable. It even features a metal comb opener so you'll be able to get a lot of use out of it. Also, the machine is pretty compact thanks to its approximate measurements of 7" (height) x 21" (width) x 18" (depth). You won't have any trouble making room for it.
Finally, the Galaxy 500 comes with a 2-year warranty.
The Fellowes Galaxy 500 is a first-rate comb binding machine that's ideal for professional use. This device is versatile and it can help you prepare your documents quickly. The Galaxy 500 is one of the few comb binding machines that has a removable comb opener, so it really stands out in the crowd. Plus, this device is durable so you can be sure it will provide you with a lot of use. Check out the Galaxy 500 if you need a high-quality comb binding machine.